DJI Air 3 - Double Up
Create spectacular aerial shots and discover a new perspective. The DJI Air 3 is a compact drone that features a foldable design and an advanced system with two main cameras. It offers a high-end wide-angle camera and a camera with a medium telephoto lens and 3x zoom. It has a maximum flight time of 46 minutes, which, combined with O4 video transmission with a range of up to 10 kilometers, allows you to freely explore your surroundings and view the world from above. Record breathtaking 4K HDR videos and take richly detailed 48 MP photos. The drone also supports omni-directional obstacle detection. The kit also includes the DJI RC-N2 remote controller - simply connect your smartphone to it and go on a sky-high adventure!
As many as two main cameras
The DJI Air 3 is the first drone in the Air series to feature a dual-camera system. It puts at your disposal an advanced wide-angle camera and a camera with a medium telephoto lens and 3x lossless optical zoom. Both cameras are housed in a slim, small form factor and offer 1/1.3-inch CMOS sensors. However, they differ in focal length, giving you more options for creating original shots. Capture the entire landscape with a wide-angle camera and use a camera with a medium telephoto lens to highlight your chosen subject for a more interesting perspective!
An image that will delight you
Take stunningly detailed 48MP photos and record thrilling 4K/100FPS or 4K/60FPS HDR videos. Both of the drone's cameras offer these capabilities, and both also support Dual Native ISO. So you can easily get exactly the results you want! However, that's not all. Both DJI Air 3 cameras allow you to use 10-bit D-Log M and 10-bit HLG color modes. The former will give you more flexibility when editing your footage, while the latter guarantees a higher dynamic range, offering better image quality without the need for color grading.
Fly longer than ever before
DJI Air 3's flight time reaches 46 minutes - about 48% more than its predecessor. Freely explore more interesting places, test different compositions and create perfect shots - don't be afraid of having to land too fast! You can also try out the separately available charging hub, which offers a new power transfer function. Just press the button to transfer the remaining power from several batteries to the battery that has the highest charge. If you happen to fly in places where you can't charge the batteries as usual, this will be perfect for you!
Safety first
Thanks to advanced sensors and APAS 5.0, the drone automatically detects obstacles in all directions and smoothly avoids them. It's not even intimidated by extremely complex environments! What's more, the Smart RTH and Advanced RTH features mean that the DJI Air 3 can plan and optimize its flight path to quickly and safely return to the starting point. In doing so, it will not stop detecting obstacles. All this means that even novice users can use the drone and realize their artistic visions without worry.
O4 advanced video transmission system
Enjoy even more freedom in flight and visit even farther corners without hindrance. The DJI Air 3 uses the latest O4 transmission system, which allows you to enjoy a range of up to 10 km, while providing greater stability and better signal quality. Its added advantage is the ability to transmit video at 1080p/60FPS. Delightful images, smooth flight and convenient operation all translate into even more fun in the skies!
Plenty of smart features
Give your video footage a unique touch. DJI Air 3 offers plenty of smart features to make it easy for you! QuickShots and MasterShots modes allow you to automatically perform complex camera movements, and 2.7K Vertical Shooting allows you to record vertically. Now you can easily create great footage for your social media! You can also try out FocusTrack tracking modes (including Spotlight 2.0, ActiveTrack 5.0 and Point of Interest 3.0) to help you keep your selected subject in the center of the frame. It doesn't stop there, though! The DJI Air 3 is the first drone in its series to offer Waypoint functionality. Plan your flight routes in advance and record even long shots with ease!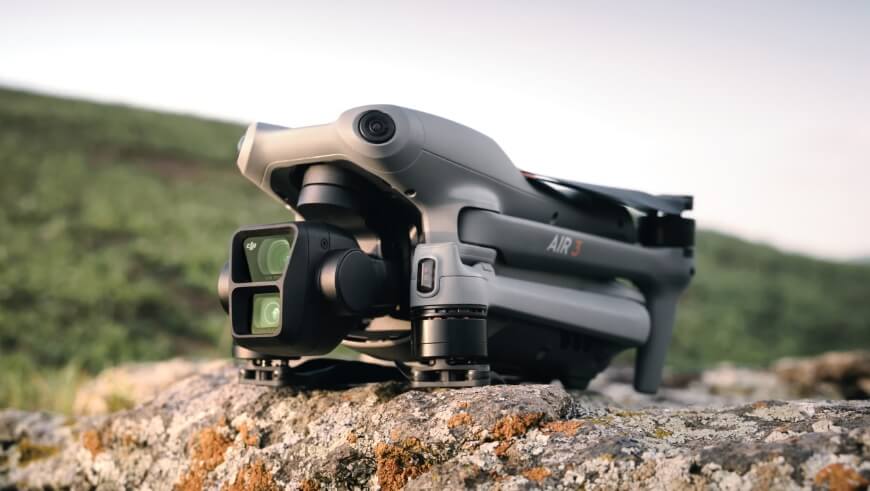 Even more possibilities
DJI Air 3 offers even more features. Use Night Mode to record fantastic videos (up to 4K/30FPS) even at night or in low light conditions. Slow Motion will let you create breathtaking videos in up to 4x slow motion. SmartPhoto 3.0 is responsible for optimizing photo quality, and QuickTransfer allows you to copy footage from your drone to your phone very quickly. You can also record stunning Hyperlapse shots at up to 2.7K vertical or up to 4K horizontal resolution - available modes include Free, Circle, Course Lock and Waypoint.
Try out the LightCut app
Don't have time to edit your video footage? Or are you just not fond of it? With help comes the LightCut app! You'll find a One-Tap Edit feature that intelligently selects matching shots, matches them with templates and sound effects, and then generates a short video. And that's it - that's all it takes to create ready-to-publish footage! You can also use Tilt-Shift Effects. This feature will let you create a tilt-shift effect with a single tap! What's more, you will connect to the LightCut app on your smartphone wirelessly. You don't need to download all the photos and videos from your drone - this will save space on your phone's memory.
Additional accessories
Provide yourself with even more options. All you need to do is stock up on accessories available for sale separately! The ND filter set (ND8/16/32/64) will allow you to capture stunning video footage at longer shutter speeds. This is ideal if you plan to film in difficult lighting conditions! You can also use the DJI 100 W USB-C power adapter to charge your drone's battery and control camera simultaneously. A handy DJI 65 W car charger is also available.
In the box
DJI Air 3 x1
DJI Air 3 Low-Noise Propellers (Pair) x3
DJI Air 3 Gimbal Protector x1
DJI RC-N2 Remote Controller x1
DJI RC-N2 RC Cable (USB-C Connector) x1
DJI RC-N2 RC Cable (Lightning Connector) x1
USB-C Cable x1
DJI Air 3 Intelligent Flight Battery x1
Documents (Quick Start Guide and Disclaimer) x1
Drone
Starting weight
720 g
Dimensions
Assembled (without propellers): 207 x 100.5 x 91.1 mm (L x S x W);
Unfolded (without propellers): 258.8 x 326 x 105.8 mm (D x S x W);
Max. rate of climb
10 m/s
Max. descent speed
10 m/s
Max. horizontal speed (at sea level, no wind)
21 m/s;
19 m/s in EU regions.
Max. ceiling
6000 m
Max. flight time
46 min

*Measured while flying at a constant speed of 28.8 km/h, in a windless environment, at sea level, with APAS turned off, AirSense turned off, camera parameters set to 1080p/24FPS, video mode turned off and from 100% to 0% battery level. The information provided here is for reference only. Always pay attention to notifications in the app during flight.
Max hover time
42 min

*Measured while hovering in a windless environment, at sea level, with APAS disabled, AirSense disabled, camera parameters set to 1080p/24FPS, video mode disabled and from 100% to 0% battery level. The information provided here is for reference only. Always pay attention to notifications in the app when flying.
Max flight distance
32 km
Max. wind resistance
12 m/s
Max. pitch angle
35°
Operating temperature
From -10°C to 40°C
GNSS
Galileo BeiDou GPS
Hovering accuracy range
Vertical:

±0.1 m (with video positioning);
±0.5 m (with GNSS positioning);

Horizontal:

±0.3 m (with video positioning);
±0.5 m (with high accuracy positioning system);
Internal memory
8 GB
Camera
Sensor
Wide angle camera: 1/1.3-inch CMOS sensor, effective pixels: 48 MP;
Medium telephoto camera: 1/1.3-inch CMOS sensor, effective pixels: 48 MP;
Lens
Wide-angle camera:

Field of view (FOV): 82°;
Equivalent focal length: 24 mm;
Aperture: f/1.7;
Focus: from 1 m to ∞;

Medium telephoto camera:

Field of view (FOV): 35°;
Equivalent focal length: 70 mm;
Aperture: f/2.8;
Focus: from 3 m to ∞;
ISO range
Video:

Normal and Slow Motion: 100-6400 (Normal); 100-1600 (D-Log M); 100-1600 (HLG);
Night: 100-12800 (Normal);

Still Images: 100-6400;
Shutter speed
Wide angle camera:

12 MP stills: 1/16000-2 sec (2-8 sec for simulated long exposure);
48 MP stills: 1/8000-2 sec;

Medium telephoto camera:

12 MP stills: 1/16000-2 sec (2-8 sec for simulated long exposure);
48 MP stills: 1/8000-2 sec;
Max. image size
Wide-angle camera: 8064x6048;
Medium telephoto camera: 8064x6048;
Shooting modes
Wide-angle camera:

Single Shot: 12 MP and 48 MP;
Burst Shooting: 12 MP, 3/5/7 frames; 48 MP, 3/5 frames;
AEB: 12 MP and 48 MP, 3/5 frames at 0.7 EV;
Timed: 12 MP, 2/3/5/7/10/15/20/30/60 sec; 48 MP, 5/7/10/15/20/30/60 sec;

Medium telephoto camera:

Single Shot: 12 MP and 48 MP;
Burst Shooting: 12 MP, 3/5/7 frames; 48 MP, 3/5 frames;
AEB: 12 MP and 48 MP, 3/5 frames at 0.7 EV;
Timed: 12 MP, 2/3/5/7/10/15/20/30/60 sec; 48 MP, 5/7/10/15/20/30/60 sec;
Still Image Format
JPEG/DNG (RAW)
Video resolution
Wide angle camera:

H.264 / H.265

4K: 3840×2160 @ 24/25/30/48/50/60/100*FPS;
FHD: 1920×1080 @ 24/25/30/48/50/60/100*/200*FPS;
2.7K Vertical Shooting: 1512×2688 @ 24/25/30/48/50/60FPS;
FHD Vertical Shooting: 1080×1920 @ 24/25/30/48/50/60FPS;

Medium telephoto camera:

H.264 / H.265

4K: 3840×2160 @ 24/25/30/48/50/60/100*FPS;
FHD: 1920×1080 @ 24/25/30/48/50/60/100*/200*FPS;
2.7K Vertical Shooting: 1512×2688 @ 24/25/30/48/50/60FPS;
FHD Vertical Shooting: 1080×1920 @ 24/25/30/48/50/60FPS;

*Frame rate during recording. The corresponding video will be played as a slow-motion movie. 4K/100FPS only supports the H.265 codec.
Video format
MP4 (MPEG-4 AVC/H.264, HEVC/H.265)
Max. video bitrate
H.264 / H.265: 150 Mbps
File system supported
exFAT
Colour profile and sampling method
Wide angle camera:

Normal: 8-bit 4:2:0 (H.264 / H.265);
HLG / D-Log M: 10-bit 4:2:0 (H.265);

Medium telephoto camera:

Normal: 8-bit 4:2:0 (H.264 / H.265);
HLG / D-Log M: 10-bit 4:2:0 (H.265);
Digital Zoom
Wide angle camera: 1-3x;
Medium telephoto camera: 3-9x;
Gimbal
Stabilisation
3-axis mechanical gimbal (tilt, roll, pan)
Mechanical range
Tilt: -135° to 70°;
Roll: -50° to 50°;
Pan: -27° to 27°;
Control range
Tilt: from -90° to 60°;
Pan: from -5° to 5°;
Max. control speed (tilt)
100°/s
Angular vibration range
±0.0037°
Sensing
Type of sensors
Multi-directional dual vision system complemented by an infrared sensor on the underside of the drone.
Front
Measurement range: 0.5-18 m;
Detection range: 0.5-200 m;
Effective detection speed: flight speed ≤ 12 m/s;
Field of view (FOV): 90° horizontally, 72° vertically;
Rear
Measuring range: 0.5-18 m;
Effective detection speed: flight speed ≤ 12 m/s;
Field of view (FOV): 90° horizontal; 72° vertical;
Lateral
Measuring range: 0.5-30 m;
Effective detection speed: flight speed ≤ 12 m/s;
Field of view (FOV): 90° horizontally, 72° vertically;
Upper
Measurement range: 0.5-18 m;
Effective detection speed: flight speed ≤ 6 m/s;
Field of view (FOV): 72° front and rear, 90° left and right;
Lower
Measuring range: 0.3-14 m;
Effective detection speed: flight speed ≤ 6 m/s;
Field of view (FOV): 106° front and rear; 90° left and right;
Operating environment
Front, rear, left, right and top: Surfaces with clear patterns and adequate lighting (lux > 15);
Bottom: Surfaces with clear patterns, diffuse reflectance > 20% (e.g. walls, trees, people) and adequate lighting (lux > 15);
3D infrared sensor
Measurement range: 0.1-8 m (reflectance > 10%);
Field of view (FOV): 60° front and rear, 60° left and right;
Video transmission
Video transmission system
O4
Live view quality
Camera controls: 1080p/30FPS, 1080p/60FPS
Operating frequency
2.4000-2.4835 GHz;
5.170-5.250 GHz;
5.725-5.850 GHz;

*The frequency 5.170-5.250 GHz may only be used in those countries and regions where this is permitted by local regulations.
Transmitter power (EIRP)
2.4 GHz: < 33 dBm (FCC);
< 20 dBm (CE/SRRC/MIC);
5.1 GHz: < 23 dBm (CE);
5.8 GHz: < 33 dBm (FCC);
< 30 dBm (SRRC);
< 14 dBm (CE);
Max. transmission range (unobstructed, no interference)
FCC: 20 km;
CE: 10 km;
SRRC: 10 km;
MIC: 10 km;

*Measured in an outdoor environment free of obstructions and interference. The above figures show the farthest communication range during one-way flight and no return for each standard. Always pay attention to RTH notifications in the app during flight.
Max. transmission range (without obstructions, with interference)
Strong interference: cityscape, approx. 1.5-4 km;
Medium interference: suburban landscape, approx. 4-10 km;
Low interference: suburbs/coastal areas, approx. 10-20 km;

*Tested in compliance with FCC standard in obstacle-free environments with typical interference. The information given here is for reference only and does not guarantee the actual transmission range.
Max. transmission range (with obstacles, with interference)
Low interference and building obstructions: approx. 0-0.5 km;
Low interference and tree obstructions: approx. 0.5-3 km;

*Tested in accordance with FCC standard in environments with obstructions and typical low interference. The information given here is for reference only and does not guarantee the actual transmission range.
Max. download speed
O4:

10 MB/s (with DJI RC-N2 control unit);
10 MB/s (with DJI RC 2);

Wi-Fi 5: 30 MB/s*;

*Measured in a laboratory environment with low interference, in countries where both 2.4 GHz and 5.8 GHz are possible. Download speeds may vary depending on actual conditions.
Lowest latency
Drone + control unit: approx. 120 ms*

*Depends on actual environment and mobile device used."
Antenna
6 antennas, 2T4R
Wi-Fi
Protocol
802.11 a/b/g/n/ac
Operating frequency
2.400-2.4835 GHz;
5.725-5.850 GHz;
Transmitter power (EIRP)
2.4 GHz: < 20 dBm (FCC/CE/SRRC/MIC);
5.8 GHz: < 20 dBm (FCC/SRRC); < 14 dBm (CE);
Bluetooth
| | |
| --- | --- |
| Protocol | Bluetooth 5.2 |
| Operating frequency | 2.400-2.4835 GHz |
| Transmitter power (EIRP) | < 10 dBm |
Battery
Capacity
4241 mAh
Weight
Approx. 267 g
Nominal voltage
14,76 V
Max. charging voltage
17 V
Type
Li-ion 4S
Energy
62.6 Wh
Charging temperature
5°C to 40°C
Charging time
Approx. 80 min (with DJI 65W charger);
Approx. 60 min (with DJI 100W USB-C power adapter and charging hub);
Charger
Input
DJI 65W Charger: 100-240 V (AC), 50-60 Hz, 2 A;
DJI 100 W USB-C Power Supply: 100-240 V (AC), 50-60 Hz, 2.5 A;
Output
DJI 65W Charger:

USB-C

5 V, 5 A;
9 V, 5 A;
12 V, 5 A;
15 V, 4.3 A;
20 V, 3.25 A;
5-20 V, 3.25 A;
USB-A: 5 V, 2 A;

DJI 100W

USB-C Power Supply: Max 100 W (total power);

*When both ports are used, the maximum output power of one port is 82 W, and the charger will dynamically distribute the output power between the two ports depending on the load.
Rated power
DJI 65W charger: 65 W;
DJI 100W USB-C power adapter: 100 W;
Charging hub
Input
USB-C: 5-20 V, max. 5 A;
Output (power accumulation)
Battery port: 12-17 V, 3.5 A;
Output (charging)
Battery port: 12-17 V, 5 A max;
Output (USB)
USB-C:

5 V, 3 A;
9 V, 5 A;
12 V, 5 A;
15 V, 5 A;
20 V, 4.1 A;
Charging method
Sequential charging of three batteries.
Compatibility
DJI Air 3 smart battery
Car charger
Input
12.7-16 V, 6.5 A, 14 V nominal voltage (DC)
Output
USB-C:

5 V, 5 A;
9 V, 5 A;
12 V, 5 A;
15 V, 4.3 A;
20 V, 3.25 A;
5-20 V, 3.25 A;

USB-A:

5 V, 2 A;
Rated power
65 W
Charging temperature
5°C to 40°C
Storage
Recommended microSD cards
SanDisk Extreme PRO 32GB V30 U3 A1 microSDHC;
Lexar 1066x 64GB V30 U3 A2 microSDXC;
Lexar 1066x 128GB V30 U3 A2 microSDXC;
Lexar 1066x 256GB V30 U3 A2 microSDXC;
Lexar 1066x 512GB V30 U3 A2 microSDXC;
Kingston Canvas GO! Plus 64GB V30 U3 A2 microSDXC;
Kingston Canvas GO! Plus 128GB V30 U3 A2 microSDXC;
Kingston Canvas React Plus 64GB V90 U3 A1 microSDXC;
Kingston Canvas React Plus 128GB V90 U3 A1 microSDXC;
Kingston Canvas React Plus 256GB V90 U3 A1 microSDXC;
Samsung EVO Plus 512GB V30 U3 A2 microSDXC;
DJI RC-N2 Remote Controller
Model
RC151
Max. operating time
Without charging mobile device: 6 h;
While charging mobile device: 3,5 h;
Max. size of compatible mobile device
180 x 86 x 10 mm (L x W x D)
Operating temperature
From -10°C to 40°C
Charging temperature
5°C to 40°C
Charging time
2,5 h
Charging method
The use of a 5 V / 2 A charger is recommended.
Battery capacity
5200 mAh
Battery type
18650 Li-ion
Dimensions
104.22 x 149.95 x 45.25 mm (L x W x D)
Weight
375 g
Supported port types for mobile devices
Lightning, USB-C, Micro USB

*To use a device with a micro USB port, the DJI RC-N1 RC cable (with standard micro USB connector) is required and is available for purchase separately.
Video transmission operating frequency
2.4000-2.4835 GHz;
5.170-5.250 GHz;
5.725-5.850 GHz;
Video transmission transmitter power (EIRP)
2.4 GHz: < 33 dBm (FCC);
< 20 dBm (CE/SRRC/MIC);
5.1 GHz: < 23 dBm (CE);
5.8 GHz: < 33 dBm (FCC);
< 14 dBm (CE);
< 30 dBm (SRRC);