Camera Insta360 Titan
Insta360 Titan is an innovative camera for recording professional spherical videos. It offers a maximum resolution of up to 11K and is equipped with 8 micro 4/3 sensors, so it can provide excellent image quality and crisp colors in almost any conditions. It also enables 360 VR live streaming and supports reliable FlowState stabilization technology for unparalleled video smoothness. You can also conveniently edit your footage with Adobe Premiere Pro. Also available for sale separately is the Farsight system, which enables remote control and real-time monitoring.
Fantastic image quality
The Insta360 Titan is equipped with up to 8 micro 4/3 sensors, which guarantee excellent image quality, great dynamic range and greater color depth. This allows you to record detail-saturated 11K (mono) and 10K 3D videos, as well as capture 11K 360 photos in 3D and monoscopic formats. Discover new possibilities and use the full potential of spherical cameras!
Perfection at any time of the day
Spherical movies have never looked better Titan performs well even in low-light conditions and at night - it can provide crisp, richly detailed images without unnecessary noise around the clock. The camera also supports 10-bit color mode, which allows you to enjoy greater dynamic range and faithfully reproduced colors.
Reliable stabilization
Titan provides unparalleled smoothness in even the most dynamic shots. This is made possible by the built-in 9-axis gyroscope and advanced FlowState technology. Now you can easily create the highest quality shots on the move - no need for an additional gimbal!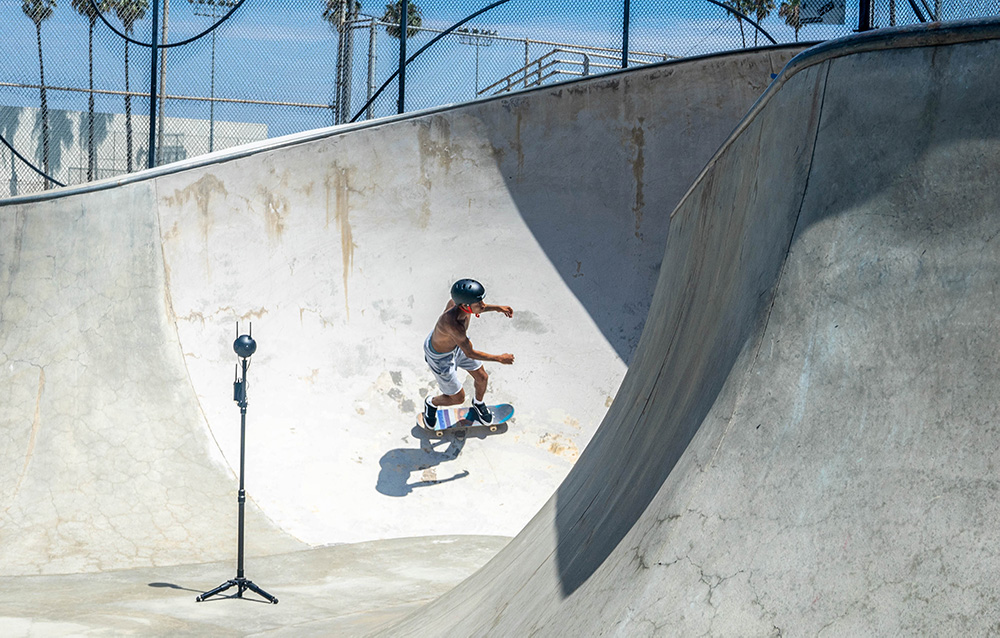 Live streaming capability
The Insta360 Titan camera will also prove its worth for 360° live streaming. It allows you to stream in 8K/30FPS and record at the same time - you can play back the prepared footage later at any time. What's more, advanced video linking technology allows you to conduct VR live streaming in 4K/30FPS. The camera supports RTSP, RTMP, RTMPS and HLS protocols. Note: an appropriate license is required to stream in 8K/30FPS.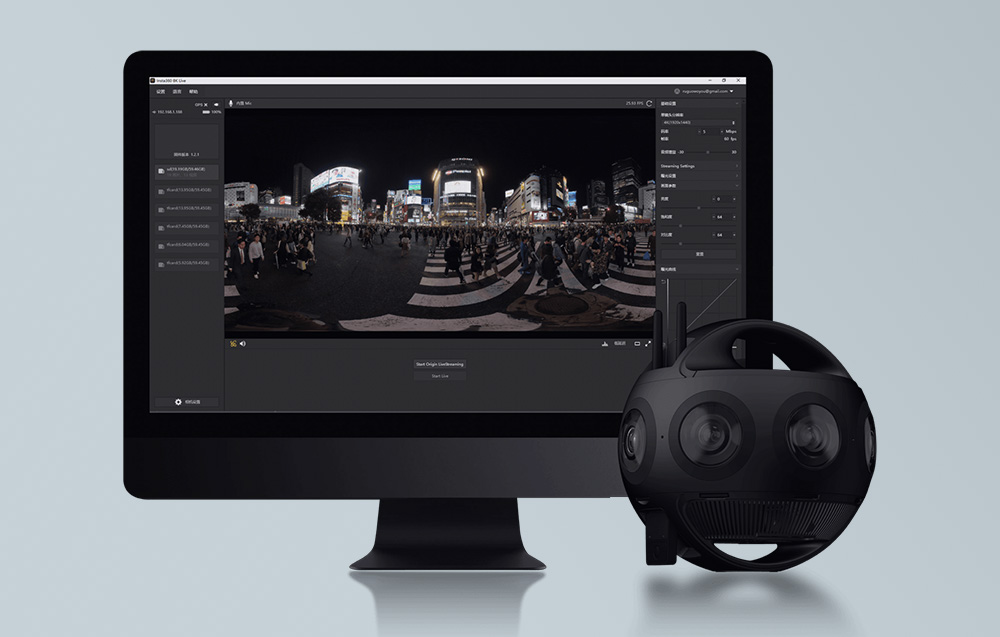 Facilitated editing with Adobe Premiere Pro
You can conveniently edit footage prepared with the camera using Adobe Premiere Pro. Now you only need a few moments to get to work - no need to combine materials beforehand. Forget about the prolonged wait and take more time to realize your creative ideas!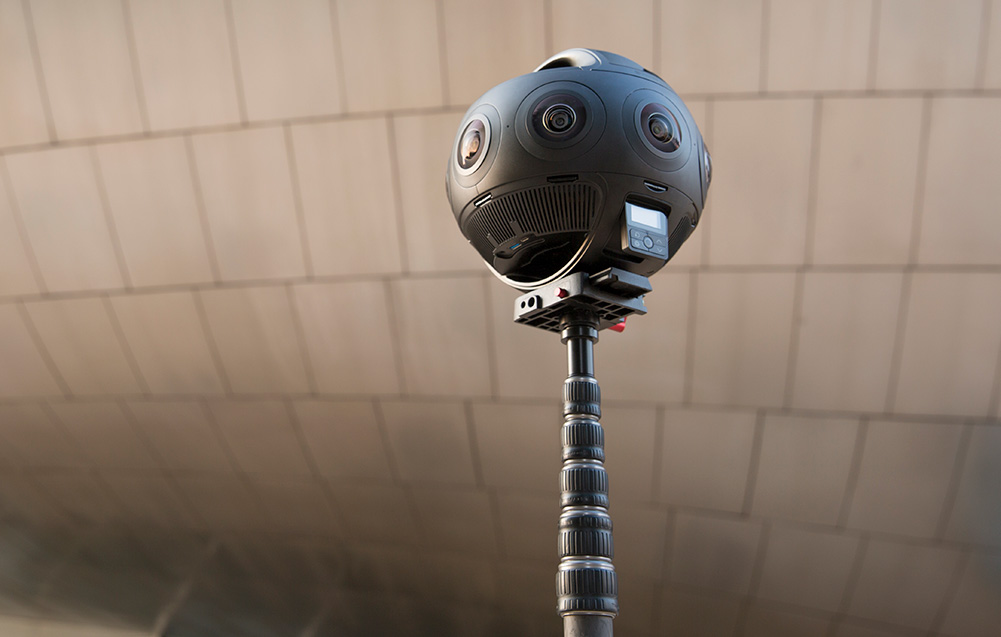 In the box
Insta360 Titan
Case on wheels
Rechargeable battery (1000 mAh)
DC adapter
AC cable
Lens protective cover
USB2.0 to 100 Mbps Ethernet network adapter
USB-C cable
1/4″ to 1/4″ adapter
Antenna
Brand
Insta360
Name
Insta360 Titan
Model
TINTITA/A
Diameter
228 mm
Material
Aluminum alloy
Lenses
8 x 200° fisheye lens F3.2
Image resolution (real-time, merging in post-production)
10560 x 5280 (11K 2D);
10560 x 10560 (3D)
Video resolution (merging in post-production)
10560 x 5280 @ 30FPS (11K 2D);
9600 x 9600 @ 30FPS (10K 3D);
7680 x 7680 @ 50FPS;
7680 x 3840 @ 60FPS;
5248 x 2624 @ 120FPS;
10560 x 5280 @ 5FPS (Google Street View);
10-bit video
7680 x 7680 @ 30FPS (8K 3D);
7680 x 3840 @ 30 FPS (8K 2D);
Real-time linking
3840 x 3840 @ 30FPS (4K 3D);
3840 x 1920 @ 30 FPS (4K 2D);
Photo format
JPEG / DNG
Video format
MP4
Video codecs
H.264 and H.65 in-camera, Pro RES 422 HQ (available when merging later)
4K streaming modes
Built-in Server / Custom Server
HDMI output (4K streaming)
4K 2D or 3D @ 29.97FPS
Protocols (4K streaming)
RTMP, RTSP, RTMPS, HLS
8K streaming modes (using Insta360 8K Live*)
Built-in Server / Custom Server / SDI

*Required license and PC.
Output (8K streaming)
8K 2D @ 29.97FPS
Protocols (8K streaming)
RTMP, RTMPS, RTSP
File storage
9x full-size SD card
ISO range
100-6400
Exposure modes
Auto, Manual, Lens-by-Lens Custom, Shutter Priority (photos only), ISO Priority (photos only), Set ISO Upper Limit (movies only)
White balance modes
Automatic, Manual
Shooting modes
Single shot / Burst (10 consecutive shots) / Timelapse / AEB (optional 3, 5, 7 or 9 shots)

*Note: both RAW and JPG files can be selected for simultaneous shooting (for synthetic HDR and all other modes).
Video modes
Standard (i-Log available) / Binning (i-Log available)
Bitrate per lens
Up to 180 Mbps
Power supply
19 V 9 A adapter
Battery capacity
10,000 mAh
Operating temperature
0°C to 40°C
Storage temperature
From -20°C to 40°C
Wi-Fi specifications
802.11 b/g/n, 2.4 GHz

*Signal range is approximately 20 m in open space. The maximum frame rate of video preview is 30 FPS (supported at a range of about 5 m).
Antennas
GPS signal antenna Wi-Fi signal antenna
Ethernet port
Yes
Video transmission
Insta360 Farsight provides a range of up to 300m (ground-to-ground) or up to 1000m (ground-to-air) with 30FPS preview.
Number of microphones
4 mono microphones
Audio codecs
AAC
Surround sound
Ambisonic
Gyroscope
9-axis high precision gyroscope
Stabilization technology
FlowState
Video linking
Optical Flow / Template
Exposure range
12 degrees
Supported systems
Windows, Mac OS, iOS, Android
Weight
5.5 kg